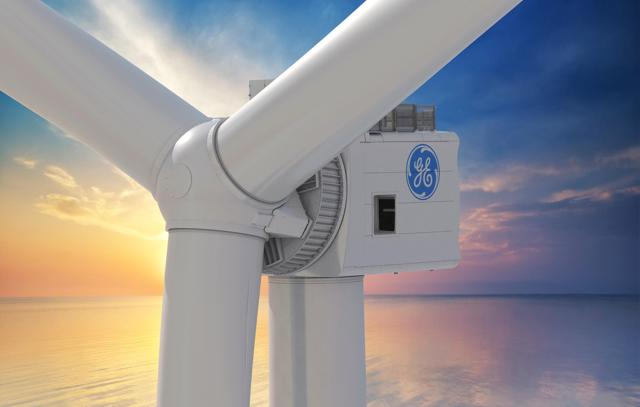 Source: GE
As mentioned in other articles, I found myself retiring a few years ahead of plan. I always knew that I wanted to 'retire' as soon as I could be comfortable. There is no reason to work until you die. Like me, you probably have had friends die that were going to retire after 'just one more year' or die soon after retirement.
While retirement is not a bad thing, one has to get the right perspective on money, health, relationships, and time. What follows is a discussion on various stocks that one might consider in a retirement portfolio with a detailed review of General Electric (GE). In addition, I share with you the softer side of ideas to consider in retirement from my experience.
Which Stocks Might Be Part Of A Retirement Portfolio?
There is a lot to be said for building a portfolio of stocks for the long haul. As you get older, your time horizon is reduced and one would tend to allocate more to lower beta stocks and 'safer' investments that pay dividends. Stocks like the following should be reviewed as part of a portfolio: Johnson & Johnson (JNJ), Medtronic (MDT), Coca-Cola (KO), Colgate-Palmolive (CL), Procter & Gamble (PG), 3M (MMM), Lowe's (LOW), as well as stocks in the Internet of Things (IoT) space such as Amazon (AMZN) and Apple (NASDAQ:AAPL).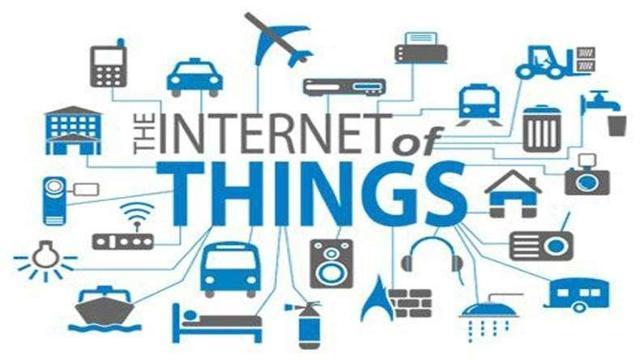 Source: News
What About General Electric?
Many retirees are holding shares of General Electric. What was not to love about the company – until the last two years. Ouch! Concerns over cash flow, a struggling power unit, and a dividend cut in the last quarter of the 2017 has many long-term investors way under water on GE.
GE reported better than expected earnings for the 1Q2018 and it appeared that investor sentiment was finally improving. However, GE's shares crashed again as the Power restructuring drags on.
Check out this ugly chart: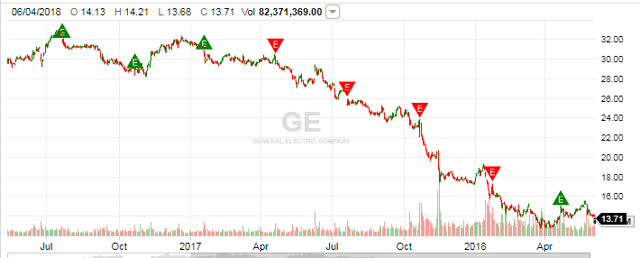 Source: Fidelity
GE shareholders have been in for a very rough ride these past 12 months – the stock is down 49% – yes, 49%, over the last 52 weeks! CEO John Flannery has laid out a slow and steady turnaround of GE. He's replaced almost half of the management team and cut GE's dividend in half.
Many readers will say that it is all about dividend and that the stock price is secondary. However, I would prefer to have both. If you are a buy-and-hold investor, dividends often provide investors with the power of compounding. Dividend stocks can have a place in your portfolio, but be careful of the trap – paying a high dividend, but having a stock with lousy fundamentals. One is looking for a high dividend-paying stock with strong operations to ensure that dividend payouts are well covered by earnings. The total package matters, not just the dividend yield. GE's dividend is a tempting 3.4%.
Recovery
Things were looking better for GE in 1Q18 with an earnings beat. According to GE, they reported adjusted earnings of $0.16 per share, beating estimates. The company continues to see strength in its GE Aviation and GE Healthcare units with operating profit margin up 26 percent and 11 percent, respectively. The company said it remains on track to deliver $1-1.07 earnings per share for the year. Per GE:
"The first quarter is a step forward in executing on our 2018 plan, and we are seeing signs of progress in our performance," said GE Chairman and CEO John Flannery. "Industrial earnings, free cash flow and margins all improved year over year. We reduced industrial structural costs by $805 million and are on track to exceed our cost-reduction goal of $2 billion in 2018."
Cash Flow
However, the bottom fell out again on May 23 when the CEO said that he expects GE's power division to continue to struggle through 2020 and sees no profit growth for that division – nothing really new there except that it would take into 2020 to finish the restructuring surprised some. In addition, the CEO whispered that the dividend might have to be cut again. Just on June 4, a JP Morgan analyst noted that GE will need to de-risk, raise cash and cut the dividend – again.
The number tossed around that GE needs? $40 billion. Asset sales will help, but will they be sold fast enough? General Electric recently sold some of its transportation unit to rail equipment maker Wabtec in an $11.1 billion deal. GE will receive a $2.9 billion up-front payment in cash and its shareholders will own 50.1% of the combined company, while Wabtec shareholders will own the rest.
Flannery told GE shareholders late last year he plans to pare GE down to three core businesses: power, aviation and healthcare. Even with the sale of Baker Hughes (BHGE) which might fetch $20 billion, where will GE get the other $20 billion? Unless GE can generate enough cash, the dividend will have to be cut again.
Technicals
Currently, GE's relative strength index (RSI) is below 50 which is bearish. The MACD is below its signal line and positive. The MACD must penetrate its zero line to expect further downside. The stock is trading under its 20-day moving average of 14.56 and below its 50-day moving average of 14.01. A price point of 14.8 appears to be the next resistance level while 12.4 appears to be the support. Overall, there appears to be continued short to mid-term weakness. Time will tell if there is a bottom here in the next 9-12 months.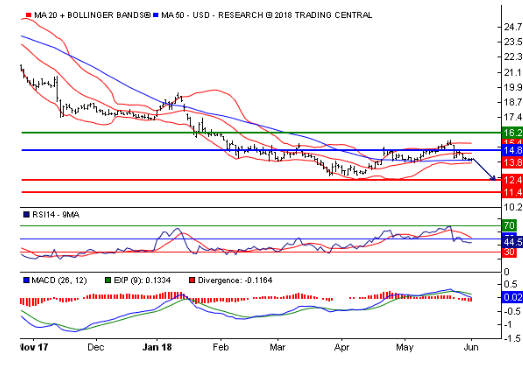 Source: Trading Central
Insider Trading
While not a perfect indicator, it is interesting to view (legal) insider trading activity over time. Some investors believe there is a direct correlation to insider trading activity and the future stock performance. However, I generally do not believe that insiders are that much better than the public in determining the direction of a stock. Many times, insiders exercise shares for a number of reasons, some of which have nothing to do with where they think the stock is headed.
Shown below are insider transactions for the last two years by transaction type. Also shown is the corresponding stock prices. In addition, the top key insiders are shown detailing shares held, percentage change in ownership and market value. There does not appear to be any direct correlation between insider activity and stock price during this time.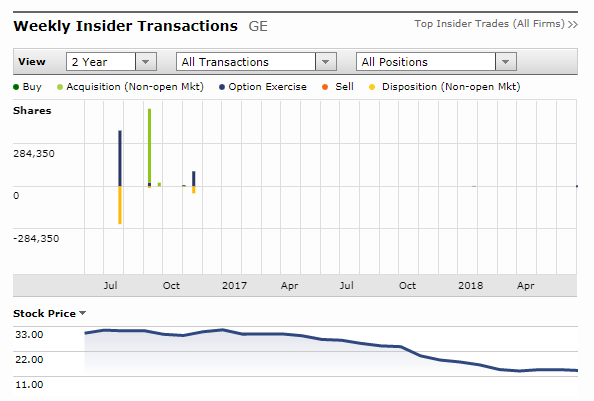 Source: Morningstar

Summary On GE
While GE appears to be doing the best they can for the shareholders – restructuring its power division, cutting costs, selling assets, changing management, etc. However, like most big companies, real change takes time – does GE have the time it will take to execute a turnaround with the cash it has and at the current dividend level?
I have been watching GE closely and keep thinking that the pain is over and that a buying opportunity has materialized only to be wrong time and time again. How much longer do we have to wait and should retirees continue to hold out for a rebound in prices when there are so many other companies that are stronger and creating shareholder value such as Lowe's (NYSE (NYSE:LOW). See my recent LOW article here.
On the other hand, if GE can speed up its asset sales and continue to slash costs while improving margins in their core businesses, GE might be considered for a longer-term, speculative investor.
How Much Money Do You Need?
Circling back to the original question of how much money do you need to retire – it really depends on two main things: how long will you live and how much you will spend, net of earnings. Fidelity suggests this broad rule of thumb:
By 30: Have the equivalent of your salary saved
By 40: Have three times your salary saved
By 50: Have six times your salary saved
By 60: Have eight times your salary saved
By 67: Have 10 times your salary saved
For money saving tips, see my previous article here.
Post-job/Retirement Perspectives
What follows below is a brief discussion on the softer issues of retirement.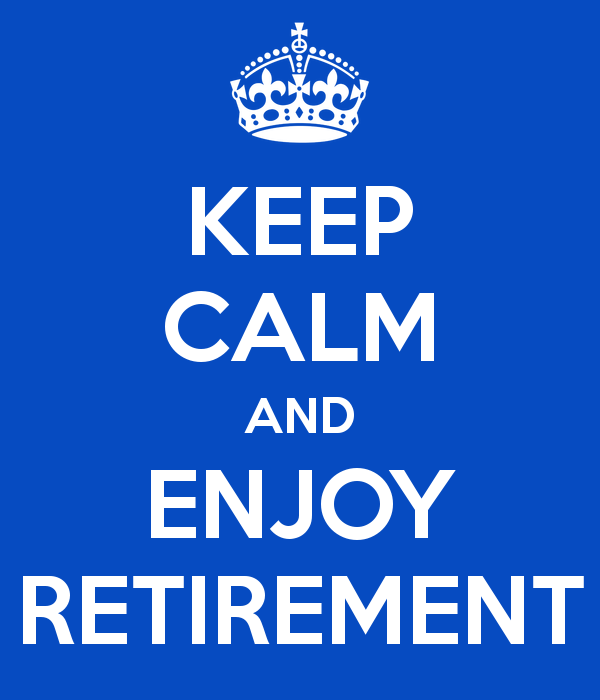 Retirement – in all its variations – can be a challenging part of life. There is newfound freedom of time but one might feel financially constrained as a regular paycheck is not being received. Many find it difficult to change their life patterns moving from 30+ years of working in an office in a structured environment to one of more freedom and with less personal interaction.
While you need to manage your finances, estimate your spending and your income, there are softer concepts that people sometimes don't consider.
Behavioral and emotional aspects of retirement should be considered. This includes areas such as: personal development, activities, mental health, and interpersonal relationships.
Personal Development
You most likely learned and had personal development courses during your professional career. Why stop when the job does? In a post-job environment, it is even more important to find meaning in what you do (or in many cases, to start to find meaning). Now that you have more time to learn, it is a great time to acquire new skills. You can learn about completely new areas and experience new things.
For instance, I just volunteered on a goat farm for a period of time. We learned so much about farm life and gleaned new skills including: animal feeding; proper stall cleaning methodologies; medication and other special care needs; field raking; hay moving; tractor work; goat milking; egg gathering and candling; making animal dairy products, and how to make soap.
Would we have had time to do that during our 'real' job? No way. However, I can tell you though that it was in the top 20 experiences of my life.
There are so many things that you can learn outside of your profession – master a new language, start a business based on a hobby, take courses at the local university, travel. Consider what you are passionate about and execute a plan to what spending more time in that activity would be like.
Activities
Travel
As many of you know, we have traveled extensively throughout the world – over 90 countries and counting. In our post-job world, we are finding that we are super busy building our new website business, blogging, vlogging, and traveling. We routinely will work until 2-3am as we are so excited about what we are doing. Our traveling now consists of much longer trips helping people around the world with our skills and foundational insight. We are meeting tons of new people and experiencing life outside of the office – awesome.
Traveling takes planning. Traveling on a budget takes a lot of planning. Fortunately, we have had 15+ years of traveling worldwide on a budget. Having the internet is the key – it's probably more important to me than running water – in order to keep up with the markets and Seeking Alpha readership.
Working in Retirement
No one says that your post-job life can't also include a different career. Do you want to stay in your same field or try something new? For me, it's a mix – stay with the investment side of my brain with Seeking Alpha and my other investment activities; however, I'm also venturing out into writing non-finance articles and books, participating in work programs, disaster relief, etc. Consider what type of work you would want to try. Define why you want to continue to work – money, authority, feelings of worth, status, etc. Determine if you want to work on a consultant basis, full time, or part time. Another great area to consider is volunteering.
Volunteering
Volunteering is a great thing. Many people don't like the overused term of 'giving back'. However, that is exactly how I feel about volunteering – you are giving back – with your skills, strengths, and talents for, in many cases, people that have fallen on hard times due to poor choices or due to other social-economic issues. Maybe your skills can be leveraged to help an organization. I find it very rewarding and very humbling. Things that I take for granted – food, shelter, safety, etc. – are not givens for many people, even in the USA.
Mental Health
Attitude is everything. You know this. You have probably said it. After you retire, there is a lot more time to think – sometimes that is not a good thing. We spend a lot of life before retirement being busy, staying busy, telling people how busy we are – it's almost a badge of honor these days. Post-job life gives one time to evaluate the past – the good and the bad that you have done or left undone. While it is healthy to be introspective some of the time, there is a place for keeping a positive attitude to contribute to your happiness. Letting go of negative feelings and grudges are important, just as important as it is to lose weight, get proper sleep, exercise, eliminate tobacco use, and reduce your alcohol intake.
Relationships
Retirement could mean less interactive time with a wider audience. You might find that you need to get to know your spouse again as now you spend a lot more time together. All types of relationships play a larger role in your satisfaction. Are you an extrovert, an introvert? Where will you meet new people? What do you want to obtain from your relationships? How do you balance time between other activities mentioned herein and developing new relationships and kindling older relationships?
Determining what you will do in your post-job life is an important aspect your happiness and search for meaning. Of course, health and finances will play a major part of your outlook.
Additional Disclosure
Thank you for your time in reading the above article. I read and write on a wide range of companies on a regular basis. If you would like to stay informed with articles like these, please click the "Follow" button at the top of this report and select "Get email alerts." If you have additional insights on the topic or contrasting views, please kindly share them in the comments section.
This article is intended to provide educational information to readers and in no way constitutes investment advice. Investing in public securities is speculative and involves risk, including possible loss of principal. The reader of this article must determine whether any investments mentioned in this article are suitable for their portfolio, risk tolerance and accept responsibility for their decisions. Neither information nor any opinion expressed in this article constitutes a solicitation, an offer or a recommendation to buy, sell, or dispose of any investment or to provide any investment advice or service. An opinion in this article can change at any time without notice.
Disclosure: I am/we are long LOW, GE, AMZN, APPL.
I wrote this article myself, and it expresses my own opinions. I am not receiving compensation for it (other than from Seeking Alpha). I have no business relationship with any company whose stock is mentioned in this article.
Editor's Note: This article discusses one or more securities that do not trade on a major U.S. exchange. Please be aware of the risks associated with these stocks.
Related Posts: